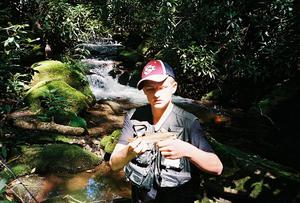 The Great Smoky Mountains National Park is filled with great trout fishing opportunities. While the big named streams get most of the attention, there are a number of lesser known opportunities. Here are 5 of these overlooked streams, on which I almost never see another fisherman:
Upper Deep Creek – While the lower and middle portions of Deep Creek are among the most famous in the park, the upper reaches are virtually untouched. A couple of steep miles down the Deep Creek Trail from Newfound Gap Road (US 441) puts you in prime brook trout water. An aggressive day hike in and out or staying at the closest backcountry campsite (#53), which is about 4 miles from the trailhead, are your two options for fishing it. In days gone by, I used to catch a number of brown trout in this area, but now brook trout predominate. However, I've caught a grand slam (a brown trout, rainbow trout, and brook trout) in a single pool here.
Chasteen Creek – I still remember my first real encounter with Chasteen Creek. Dad and I had been fishing elsewhere in the park; we'd basically been blanked and rained on profusely. We hiked the one and a half easy miles from the trailhead in the Smokemont campsite in to campsite #50 on Chasteen Creek, set up our backcountry campsite, and I began sulking in the tent. Dad went out fishing, and in just a few minutes, had enough action that I forgot my bad mood. In subsequent trips over a few years' time, I probably caught 6-7 of the top 10 biggest trout I've caught in the park in this stream. However, it's been a number of years since I've had that kind of encounter, but it's still a fun stream to fish. Brown and rainbow trout predominate below the falls, but there are some brook trout as well. The fishing is very tight throughout, but it gets even tighter above the falls, where brook trout are the main catch.
Raven Fork/Enloe Creek – The hike in to Raven Fork from the Straight Fork Road is steep and rigorous, so much so that you will probably need to camp once you're in there. However, campsite #47 is one of the smallest in the Smokies, and you'll need reservations. Additionally, the trail only briefly follows the creek downstream from an elevation well above the stream. Below this point, there is a virtually impassable gorge. Basically, this means the fishing is from this point upstream on Raven Fork, and then you're basically reduced to hiking up and back down the stream. All this makes Raven Fork a difficult stream to fish, but the fish are eager to cooperate. The beautiful pools of the stream harbor ample populations of brook and rainbow trout. If you're ready for even more adventure, fish your way upstream to the 3 forks pool. Also, the Park has, in recent years, opened Enloe Creek, which is a tributary of Raven Fork. This is a scaled down version of Raven Fork, and offers similar, but tighter, fishing. It can be accessed just a short distance down the trail from where the trail crosses Raven Fork.

Kanati Fork – Kanati Fork is easy to miss. I passed over it many times, not realizing that the tiny little creek tumbling under 441 just north of the Kephart Prong parking area was Kanati. Kanati enters the Oconaluftee River just a tad upstream of where Kephart Prong enters it, but from the other side. There is a nice parking area across 441 from the trail that roughly follows Kanati. This steep and tiny stream offers a good opportunity to catch brook trout, but you'll have to use small stream tactics, such as dapping, slingshotting, and roll casting if you're fly fishing. Lure fishermen will find very little real estate for their lures. This tiny stream probably can not endure much fishing pressure, so be sure to release all the fish unharmed.
Roaring Fork – Roaring Fork is a beautiful and steep creek that can be accessed from the one way road, the Roaring Fork Motor Nature Trail (which is accessed from Gatlinburg). Roaring Fork offers fishing for brook trout in the tiny upper reaches, and rainbow trout in the medium sized lower reaches. Small stream tactics apply upstream, but downstream there are large pools with more casting room. You will first encounter the upper reaches when you drive through the motor nature trail, after which you will progress downstream. You may even want to park and hike up to Grotto Falls, or stop in at the mill along the way. There is ample parking along the motor trail, but keep in mind there may be a traffic jam during busy summer or fall days. You might want to drive most of the way through, park, fish upstream, and hike down at the end of the day.
You may notice that 4 of the 5 streams listed here are in North Carolina. For those wishing to fish the Tennessee side, you may want to add to the list the following: Road Prong near the Chimney Tops Trailhead off of US 441, Anthony Creek, (which forms the headwaters of Abrams Creek) upstream of the campground (on the east/entrance end of Cades Cove), or Alum Cave Creek also off of US 441.  See our Smoky Mountains Stream Descriptions for more information on the streams of the Smokies.
Check out the Great Smoky Mountains National Park Trail Map to find your way around.