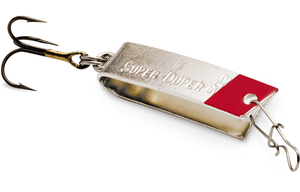 A recent comment left on the Trout University's Top 5 Artificial Trout Lures suggested that the Super Duper Lure by should be on the Top 5 list.  It was first recommended to me in 1989 by an old time fisherman that I found fishing in Deep Creek near Bryson City, NC.  After his prompting, I decided to try it in Slickrock Creek in Western NC, a stream known for browns. So I purchased a few of them relatively cheaply and made the long hike into Slickrock Creek. 
I choose to take the southern route to Slickrock Creek which necessitates a hike along a narrow ledge about 8 or 10 feet above the water.  As I was inching my way over the ledge, my backpack lurched to the right nearly causing me to take a nasty fall.  In the process of saving myself from the fall I wrenched my knee causing a severe injury.  So I may not have given the Super Duper a fair trial, but, it did not live up to my expectations, so I declined to list it as a Top 5. 
Here is what I have found about the Super Duper. 
 The simple, but effective, U-shape design of the Super Duper creates an incredible wobbling action that draws strikes from trout in a variety of water conditions. The unique shape also makes it extremely castable. Corrosion-resistant finishes ensure these lures will maintain their rightful place in the top trays of your tackle box year after year.  It is available in 1/12, 1/10 and 1/16 oz. weights and a variety of colors.  Super Duper lures are available at Cabela's and Bass Pro Shop as well as other outfitters.
Please use the comments form to weigh in with your thoughts, should the Super Duper be listed in the Top 5 Artificial Trout Lures in the Trout University web site?