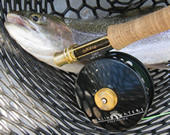 We at Trout University are proud to promote a list of affiliates which are non-profit organizations.  We are especially proud of Project Healing Waters Fly Fishing, Inc. which  is dedicated to the physical and emotional rehabilitation of disabled active duty military personnel and veterans through fly fishing as well as fly tying education and outings.  The physical and emotional recovery is vastly hastened by the rebuilding or the introduction fly fishing and fly tying skills.   The goal is to challenge the veterans to use these skills as a lifelong endeavor.
All activities and services are provided to the participants at no cost.  Fly fishing and tying equipment and materials are provided to the participants, including equipment that accommodates their special needs.  The trips near and far, are provided at no cost to the participants.  The Project relies on
Federation of Fly Fishers
, Trout Unlimited, and independent fly fishing clubs to conduct the program at the DOD and DVA hospitals across the nation.
Now Project Healing Waters Fly Fishing has adopted Charlie Meck's Patriot Fly to represent the present generation of American patriots. On December 12, 2008, Project Health Waters Fly Fishing officially proclaimed the Patriot Fly as the symbol and signature of organizations' mission. 
Why the
Patriot Fly
? The red, white, and blue of Charlie's pattern capture the patriotic colors and mission of Project Healing Water Fly Fishing; emphasizing the honor, valor, and vigilance of American service members. And, being anglers to the core, we recognized the Patriot as a fine fly with a proven record of catching trout across the country.
Navy Capt. Ed Nicholson started this work in 2004, but only last year did I come to learn about their exciting work.  Now, they have expanded to over all the United States with several locations.  Also, they sponsor many events all over the USA.