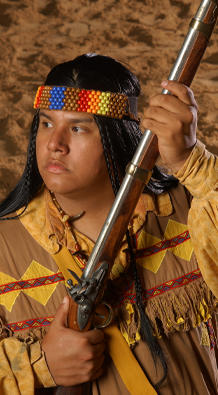 In Western North Carolina, we have the Cherokee Qualla Indian Reservation owned and managed by the Eastern Band of Cherokees.  Within the Qualla Boundary you'll enjoy 30 miles of some of the finest fishing for brook, rainbow and brown trout found anywhere in the U.S.  All rivers and ponds are open every day from the last Saturday in March through the end of the following February. For 2009, the season began March 28.
There are over 30 miles of Cherokee waters including Raven Fork from its confluence with the Oconoluftee River, the  Oconoluftee to the Birdtown Reservation boundry, Bunches Creek and three ponds at Big Cove Road.  Each year, the tribal hatchery located at the end of Big ove Road, releases more than 360,000 trout including rainbow, brown,brook, golden and Donaldson.
The Parkway Haven is a portion of the Raven Fork set aside for trophy catch and release fishing. This 2.2-mile stretch of water, which runs north from where the Blue Ridge Parkway crosses the Raven Fork, offers inviting deep pools alongside riffles, runs, and pocket waters.  the trophy catch and release waters are stocked three times per week with trout from 3 to 8 pounds.
A permit costing $7.00 for the first day, is required but a NC or Tenn. fishing licence is not required.  Be sure to check the fishing rules and regulations before you go.